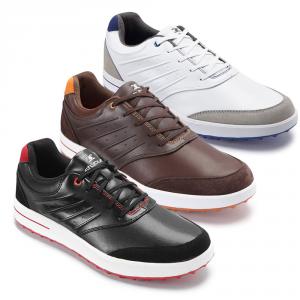 We have a good range of Stuburt shoes in many sizes, styles and colours. They come with a 1 year waterproof guarantee.
As for accessories, we are very well stocked…..
Golf balls  –  we supply Srixon balls which are a great product.
We stock a huge range of golf gloves for ladies and gents. Also winter gloves and hand warming gloves for winter play.
Tees, which come in all shapes & sizes.
Socks for ladies & gents. We have some Footjoy socks also that are tremendous quality.
Hats  –  baseball style hats with our logo, wooly hats with logo for the winter. Also waterproof "bucket" hats with logo.
Cuff links, mascots and teddy bears  –  all with our logo which make ideal gifts from Shiskine.