A warm welcome to groups looking to play at Shiskine Golf & Tennis Club.
For those of you who are organisers or members of golf societies we are able to accommodate you and your fellow golfers any day of the week or weekend (subject to availability of tee times). Our golf course is maintained to a high standard providing a challenging and stimulating contest to all calibre of golf player and our catering facilities are among the best in the area. We value your enquiry and look forward to hosting your event. We enclose information that we hope is of interest and we welcome the opportunity to show you around or provide further information.
RET is now in place on the ARRAN ferry. We would recommend taking your car / cars on the ferry. This will give you flexibility when you are over. Buses are few & far between & taxis are expensive.
Unfortunately we do not take advance bookings for July and August as this is our busiest time.
Visitors may make full use of the Club's facilities  –  practise nets, putting green, restaurant, changing rooms and full access to all the facilities in the Clubhouse.
We expect players to have some golfing ability on the understanding that the organiser takes responsibility for the competence of his / her players.
Certificates are not required to be shown before playing at Shiskine Golf Club. Visitors are expected to be capable players with knowledge of the rules, etiquette of golf, and to maintain a reasonable pace of play.
Drinking of alcohol is not tolerated on the course as it is against the law.
A relaxed dress code is accepted at Shiskine but we would recommend smart casual golf attire.
Last but not least, we have a well stocked Professional Shop at your disposal, where our resident professional staff would be happy to supply any competition prizes you may require. We look forward to seeing you at Shiskine GTC where you can be assured of our best possible service and attention, at all times.
If you have enquires regarding booking please telephone the Pro Shop on  01770 860548.
How to book
Contact: Dougie Bell
Telephone: 01770 860548
Email the Pro Shop
Society Enquiries
Packages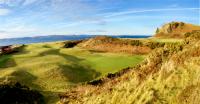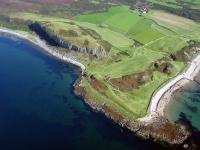 Golfing Groups – Staying Overnight
If you are a larger group and are planning to stay overnight we would recommend Kinloch Hotel in Blackwaterfoot. It is less than a 5 minute walk from Shiskine Golf and Tennis Club.
more